Soo excited and proud of Miss Robin for taking the plunge and making this link-up, and I'm even more excited to be a part of it. Her goal for this link-up was 3 people... HA, she is far beyond that and its not even 10 AM... do me a favor and link up with this gorgeous gal!
Here goes nothin' ;)
"I can't believe..."
that I get to marry this hunk in 66 little days!!
...that my second bridal shower is this Saturday, thrown my lil miss
Erin
herself.
...that Caleb and I are done with pre-marital counseling as of last night. We are so ready to just get married already!
...how productive last night was...and how productive today will be, too.
...what I looked like after my make-up trial... BAM. Not my typical at-the-office makeup, I'll tell ya that much.
...that Robin is so sweet and gave me an excuse to post today, I was gonna skip out on posting because I suck at ideas...so thanks ma'aaaam ;)

...I still haven't done my taxes.... uhh.

...that I have been blessed with so many amazing friends through this blog. I never thought I'd make real relationships with you girls, and you've just blown me away! The snail mail, packages, emails, ridiculous snap-chats, tweets, etc... its so encouraging and fun getting to know you all on a more personal level.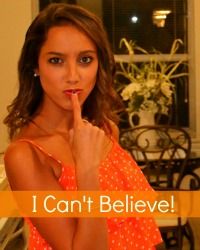 Thanks Robin, for the fun link-up... hope you all have an amazing Wednesday!