Caleb and I are ALMOST finished unpacking our new place so he can move in this weekend. Then I stumbled upon a goldmine...
my 90's CD's!
We're talkin Britney Spears' first album, Coyote Ugly soundtrack (hence the post title), Mariah Carey's Music Box, Cool Traxx, Now 4, 5, and all through 17...Boyz II Men, Aaron Carter, Christina Aguilera's Genie in a Bottle... you get it. So needless to say, Caleb threw in B. Spears' first album and we rocked out to "Crazy" for roughly 40 minutes.
I have to say, I have sucked this week. Caleb and I have been way too excited about unpacking the new place we put everything else off, and I haven't gotten to bed much before midnight every day this week, and I contemplate sleeping in EVERY morning. We didn't do Insanity, and my muscles miss it, so much! We have gone running... but, its just not the same. We plan to jump right back in where we left off in our 3rd week and go at it full force.
But all is well...cauuuuseeee, its FRIDAY. Yay weekend!
Dear wedding, you sure are sneaking up on me. Never fear -- I had a very productive day at work yesterday contacting our baker, florist (thanks Erinnn), and caterer and officially designing and ordering our wedding invitations. Speaking of....Dear invitations, is it boastful of me to say you are the cutest things ever? I absolutely cannot wait to see youuuu and send you back out into the world! Dear apartment, you are perfect. Perfect size, perfect location. Caleb is going to take great care of you before I move in, don't you worry. Dear Erin, you're a lifesaver. That's all...teehee. Dear nails, you're super hard to keep up with, and its super annoying. Dear tanning beds, I am coming back to you after years of steering clear of you (I know, I know, they are terrible...but its a must). I refuse to turn orange or even dark for that matter, I just don't want to be see-through in my wedding dress, help me out? Thanks. Dear Josh & Marie, HIII. I didn't know you both read my blog, but that makes my heart so happy. Thanks for having us over this week for yet another delicious meal. Caleb and I love you guys (and sweet little Nora!) Dear Caleb, you're amazing... that's all.
PS- dear engagement pictures, I LOVE YOU.
Linking up yet again :)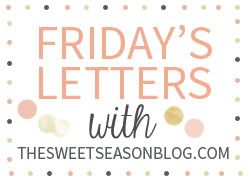 HAVE A GREAT WEEKEND! Don't forget to smile :)