I recently stumbled across a blog that I really fell in love with. Nicholl is super cute and so is her blog. She invited me to link-up with her today so, I'm trying out my very first, and random link up! Yay for progress!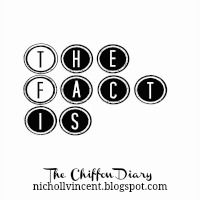 Fact
: I am on a
stupid
diet, trying to make sure I have a killer body for my wedding... and there is some cake staring me in the eye. Why?!
Fact
: X Factor is 57 times better than American Idol. Seacrest annoys me now.
Fact
: I have no sisters... this makes me EXTREMELY thankful for my best friend and also soon-to-be sister! Those two ladies are my favs.
Fact
: One of my favorite things to do is buy candy and rent a redbox. I don't need fancy schmancy everyday ;)
Fact
: My soon-to-be hubby turns 24 this Friday, and I am SO thrilled to treat him to an entire day out.
Fact
: If you wanna win me over; buy me candy. That'll do it.
Fact
: I'm a sucker for a good book. Seriously.. if I could read all day and turn off EVERY electronic device I own... I would. But lets get real, its 2012... and the world makes it hard. I do sometimes make myself "unplug" to dive into my Bible.
Fact
: I collect Mason jars... I mean, lots. The bluer the better. & you better believe they'll be ALL over the place on my big wedding day next Spring.
Fact
: I have an incredible little brother who will be 15 next month, and who is extremely protective over me. Good thing he likes Caleb, or we'd be in trouble. ;)
Fact
: Anthropologie is probably my favorite store to just peruse through... if only I had a thousand dollars to just blow.
Happy Tuesday all... is this SERIOUSLY my fourth day of blogging in a row?? Yaaaay for more progress, heh.